Three recipients receive on-the-job training, tools and tuition free classroom education
(SAN DIEGO) – Three outstanding North County Class of 2015 graduates already have a head start on careers in the construction industry just days after earning their high school diploma, thanks to scholarships awarded by the Associated Builders and Contractors San Diego Apprenticeship Training Trust.
A panel of construction professionals and educators selected Miguel Camacho from Escondido High School, and Romeo Ramos and Angel Samora from North County Trade Tech High School as this year's recipients. The panel included Sherry Yarbrough, executive director of the ABC San Diego Apprenticeship Training Trust academy; Jennifer Mouritzen, human resources director with Pacific Rim Mechanical; and Tom Skibinski with Rowan Electric, who is also an ABC apprenticeship instructor.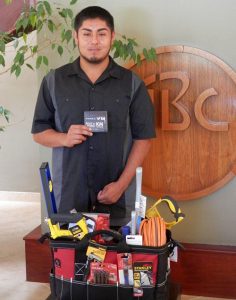 Miguel Camacho (pictured left) says he learned about the scholarship while doing online research for education and career opportunities after high school. Camacho says he decided to pursue plumbing as a career for strategic reasons. "There are always jobs in plumbing, I like the job security," said Camacho. "I don't like being in an office." After his first week of on the job training, Camacho was enthusiastic. "We went to two different locations, working on a hospital boiler and learning about pipe at another hospital."
Camacho said the opportunity to graduate from the Apprenticeship Training Academy program with a career and no college debt was very important to him. "First, there is not a guarantee of a job even if you graduate from college. Then you're in debt. I'm positive about the future." Camacho's ambitious plans also include using his skills and earnings to buy his first home and purchase additional properties to refurbish in the future.
Scholarship recipients become apprentices, which means the student is a full-time employee with benefits. Camacho is employed by Countywide Mechanical. Romeo Ramos and Angel Samora will both be electrical apprentices. Romeo Ramos is currently employed by Prime Electrical. Angel Samora will begin his employment this summer. Scholarship recipients work a 30-day pre-apprenticeship period which begins immediately after their high school graduation. Upon completion, all three officially become apprentices and begin their formal education on the job and in the classroom.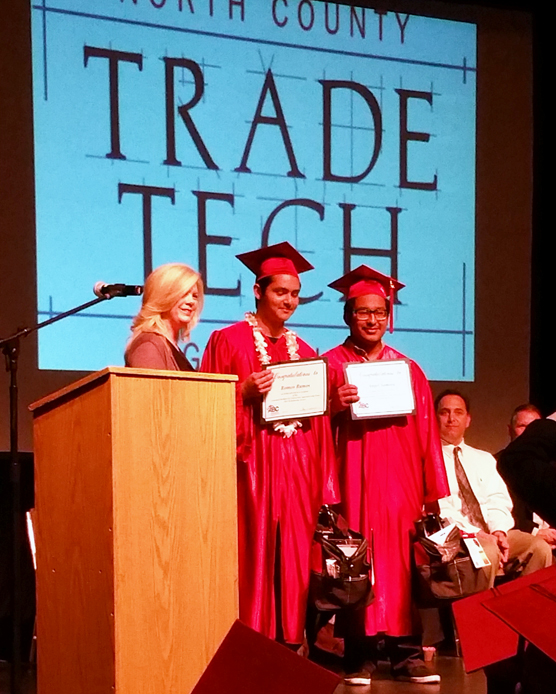 Apprentices combine on-the-job training working under the supervision of a skilled craftsperson with formal education through ABC's Apprenticeship Training Trust program, where students learn the technical side and the theory of their craft. All tuition costs are covered. As part of the scholarship, students who are selected also receive a basic set of tools for their trade, work boots, all technical manuals, codebooks and classroom textbooks throughout the apprenticeship at no cost, a value of several thousand dollars.
The new apprentices will begin their education at the ABC Apprenticeship Training Academy in August.
Applications will soon be available for the 2016 ABC Apprenticeship Scholarship Program. It is open to any high school senior currently enrolled in a construction class or training program in San Diego County. For more information about the ABC San Diego Apprenticeship Training Trust Scholarship Program, visit http://www.abcsd.org


Right: Director of Education Tracey Barrett presents the scholarships to Romeo Ramos (center) and Angel Samora (right).